Concrete Vibrator Hose 50mm 4M Shaft 13mm Replace Cement engine Pick 23019001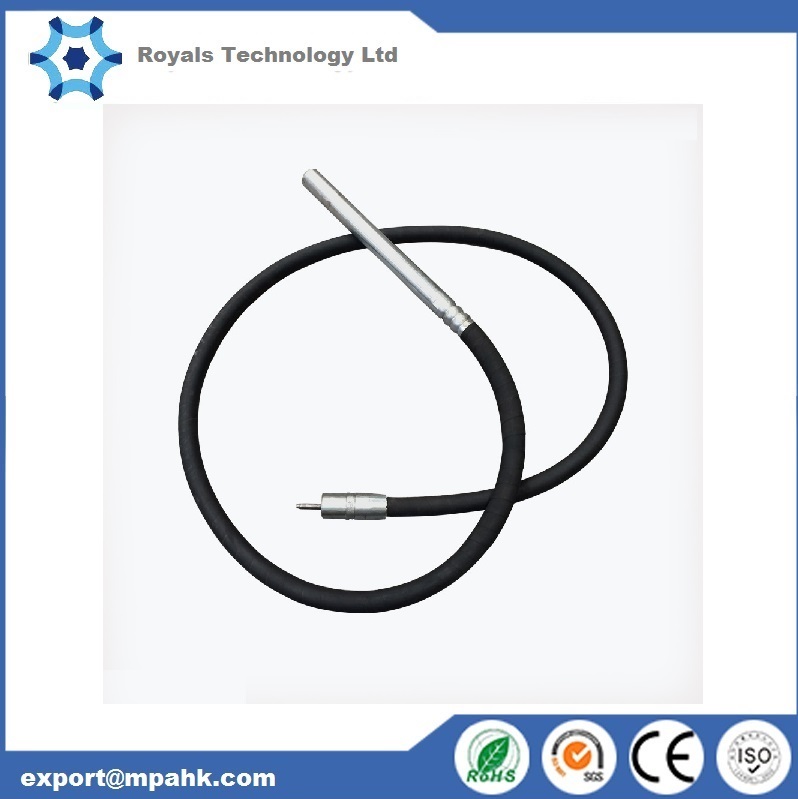 50mm x 4M
Concrete Vibrator Hose
Quality Galvanized Steel
Replacement of general vibrators
Pick up in local warehouse Moorabbin, VIC 3189
Description:
This hose can be used to replace the 4M Hose 50mm Shaft for general vibrators.
Main Feature:
Hose Length: 4 m
Connector diameter: 50 mm
Fits most of concrete vibrating engine with 50mm connectors.
Vibrator head: 50mm * 550mm
Flexible Hose Dimension: 36mm
Flexible Shaft Dimension: 13mm
Connecting Sleeve Size: ID 40mm OD 48mm
Rotation Speed: 2860RPM
Vibration Frequency: 12000VPM ( =200Hz )
Vibration Amplitude: 1.15mm
Application Noise level: 98dB Max.
Material: high quality galvanized steel
Package including:
1x Concrete Vibrator Hose (50mm x 4M)
Meanwhile, all these vibrators can be ordered in mass, we are manufacture seller in Australia
Style: support in customized design in mass.
Delivery: Support local pick up in warehouse locating in Moorabbin VIC 3189
Model Scope :
Including standard and customized vibrators below-
Japan/Korean style

Pendulum

Type (mm)

Head Size

Vibration frequency

Rotary Speed

Vibration Amplitude

Hose Size

Shaft Size

Length

Weight

(mm)

(vpm)

(rpm)

(mm)

(mm)

(mm)

(m)

(kg)

RCP-JK28

28*388

12000

3000

1.4

30

10

6

12

RCP-JK38

38*465

1.6

30

10

6

14.5

RCP-JK45

45*470

2

30

10

6

16

RCP-JK60

60*473

2.4

32

13

6

21

 

Turkish style

Pendulum Type

Type (mm)

Head Size

Vibration frequency

Rotary Speed

Vibration Amplitude

Hose Size

Shaft Size

Length

Weight

(mm)

(vpm)

(rpm)

(mm)

(mm)

(mm)

(m)

(kg)

RCP-TS38

38*465

12000 ~14000

3000 ~3600

1.6

30

10

2——12

实测

RCP-TS45

45*470

2

30

10

2——12

实测

RCP-TS60

60*473

2.4

32

13

2——12

实测

 

Russian style

Pendulum Type

Type (mm)

Head Size

Vibration frequency

Centrifugal Force

Vibration Amplitude

Hose Size

Shaft Size

Length

Weight

(mm)

(vpm)

(K.N)

(mm)

(mm)

(mm)

(m)

(kg)

RCP-RS38

415

16800

1.72

 

36

13

3

22.4

RCP-RS51

410

16200

3.28

 

36

13

3

24.5

RCP-RS76

430

11500

4.8

 

36

13

3

28.2

 

Dynapac style

Pendulum Type/ Spring Type

Type (mm)

Head Size

Vibration frequency

Rotary Speed

Vibration Amplitude

Hose Size

Shaft Size

Length

Weight

(mm)

(vpm)

(rpm)

(mm)

(mm)

(mm)

(m)

(kg)

RCP-DS32

32*388

12000 ~14000

3000 ~3600

1.4

30

10

6

13

RCP-DS38

38*465

1.6

30

10

6

16.5

RCP-DS45

45*470

2

30

10

6

17

RCP-DS60

60*473

2.4

32

13

6

23

RCS-DS28

25*450

1

25

8

6

12

RCS-DS32

32*450

1.4

30

10

6

13.5

RCS-DS38

38*450

1.6

30

10

6

15.5

RCS-DS45

45*500

2

30

10

6

16.5

RCS-DS60

60*500

2.4

32

13

6

23.5

 

Patented style

Pendulum Type

Type (mm)

Head Size

Vibration frequency

Rotary Speed

Vibration Amplitude

Hose Size

Shaft Size

Length

Weight

(mm)

(Hz)

(rpm)

(mm)

(mm)

(mm)

(m)

(kg)

RCP-PS35

38*455

220

 

0.91

30

10

6

12

RCP-PS50

45*550

200

 

1.15

36

13

6

20

RCP-PS70

60*560

200

 

1.35

36

13

6

24

 

Standard style

Pendulum Type

Type (mm)

Head Size

Vibration frequency

Rotary Speed

Vibration Amplitude

Hose Size

Shaft Size

Length

Weight

(mm)

(HZ)

(rpm)

(mm)

(mm)

(mm)

(m)

(kg)

RCP-SS25

25*390

260

2860

0.8

25

8

6

10

RCP-SS35

35*455

220

0.91

30

10

6

13.02

RCP-SS50

50*550

200

1.15

36

13

6

20.72

RCP-SS70

70*560

200

1.35

36

13

6

25
Package including:
1x Concrete Vibrator Hose (50mm x 4M)
Thank you
Minermate
Royals Technology Group